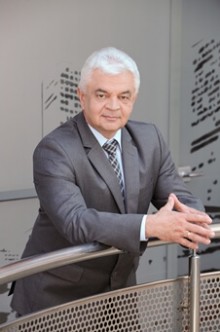 Jerzy Bernhard
Management Board President, CEO in the years 1998-2021
On February 26, 2021, a great man and manager passed away - Jerzy Bernhard - President of the Management Board of STALPROFIL SA and the creator of the STALPROFIL Capital Group.
It is difficult to find words that would contain his achievements, competences and passion with which he managed the company he built for nearly three decades.
We say goodbye to an outstanding man who for many years changed the image and created new trends in the steel industry and the infrastructure investment industry.
Mr. Jerzy Bernhard graduated from the Faculty of Mechanical Engineering at the Częstochowa University of Technology. From the beginning of his professional career, he was associated with the steel industry. In the years 1975-1992 he worked in Huta Katowice in the positions of Master to Deputy Head of the Department. In 1992, he assumed the position of the President of the Management Board of STALPROFIL for the first time and held it until 1996.
Then, from 1996 to 1998, he was a Member of the Management Board and Commercial Director at Huta Katowice SA. In 1998, he returned to the position of the President of the Management Board and CEO of STALPROFIL SA and for the next 23 years he was associated with this company and the Capital Group STALPROFIL SA he created. During his professional career, he was the chairman and member of supervisory boards of many capital companies. In addition, President Jerzy Bernhard performed many functions in social organizations, including as: Member of the Provincial Council for Social Dialogue, Member of the Regional Council of Business Center Club, Member of the Council of the Polish Union of Steel Distributors, Member of the Council of the Healthcare Foundation in Dąbrowa Górnicza, and Member of the Polish Chamber of Steel Structures.
Long-term development strategy for STALPROFIL SA formulated and implemented by President Jerzy Bernhard and the STALPROFIL SA Capital Group has brought about and continues to bring about tangible economic effects. STALPROFIL SA Capital Group is one of the leading players in the Polish steel distribution market and leaders in the European market of anti-corrosion insulation of steel pipes.
The unquestionable merit of President Jerzy Bernhard was the preparation and implementation of the process of making STALPROFIL SA and its subsidiary - Izostal SA - public and the successful introduction of both companies to the Warsaw Stock Exchange.
The priority for President Jerzy Bernhard has always been the continuous development of the Group's activities. On the initiative of President Jerzy Bernhard, the Group's entities actively obtained EU funds for innovative investments. As a result of the material and capital investments made, the value of which in recent years has reached several hundred million PLN, the STALPROFIL SA Capital Group significantly modernized its commercial and production infrastructure and expanded its product offer, introducing to it, apart from the distribution of steel products, also the service of gas and other utilities transmission networks, the production of steel structures and, above all, the production of anti-corrosion insulation for steel pipes. Almost a decade ago, the Group's entities were in the top ten of the most innovative companies in Poland. The developed and patented innovative solutions, including high-quality insulation, have gained recognition in the country and on external markets and are used in the construction of strategic gas transmission lines in Poland and Central Europe.
STALPROFIL SA Capital Group currently employs over 550 employees. The development strategy pursued by President Jerzy Bernhard has always been distinguished by the desire to increase employment in the Company and the entire Capital Group. It was also characterized by particular care for promoting activities for the benefit of the Company's employees. As part of this program, extensive training and social activities have been implemented for years. The HR policy led by President Jerzy Bernhard was based on building a competent team and creating a sense of security and stability among the staff, which resulted in low staff turnover and building development paths.
Jerzy Bernhard's sensitivity to social issues was also known. As part of activities related to corporate social responsibility, STALPROFIL under the leadership of President Jerzy Bernhard allocated significant funds to pro-social and charity activities. The company actively supported institutions responsible for the redistribution of funds directly to people in need of support. Directional, permanent financial assistance in the field of health protection, the company focused primarily on co-financing the health service, including the purchase of medical equipment for hospitals. The company supported many public benefit organizations as well as cultural, educational and sports institutions.
The sources of the success of the STALPROFIL SA Capital Group, led by President Jerzy Bernhard, were the principles of business ethics, partnership relations with contractors and strong customer orientation.
This is confirmed by countless awards and prizes as well as the awarded titles, which were awarded to President Jerzy Bernhard and the Company.
The outstanding managerial competences of President Jerzy Bernhard are most clearly demonstrated by the title he received three years after STALPROFIL entered the Warsaw Stock Exchange. It was the "Bull and Bear" award in the category of the best-managed listed company of the year.
Księga kondolencyjna
W dniu 26 lutego 2021 roku odszedł od nas wielki człowiek i menedżer - Jerzy Bernhard - Prezes Zarządu STALPROFIL S.A. i twórca Grupy Kapitałowej. Trudno znaleźć słowa, które pomieściłyby jego dokonania, kompetencje oraz pasję z jaką przez blisko trzy dekady kierował zbudowaną przez siebie firmą. Żegnamy wybitnego człowieka, który przez wiele lat zmieniał obraz i kreował nowe trendy w branży stalowej i branży inwestycji infrastrukturalnych. Żegnaj Szefie, Przyjacielu, Partnerze.
Członkowie Zarządu, Rady Nadzorczej, Pracownicy STALPROFIL S.A.
Nie ma takich słów, którymi można opisać smutek i pustkę po śmierci Wielkiego Człowieka i Wybitnego Menedżera – Jerzego Bernharda - Przewodniczącego Rady Nadzorczej Izostal S.A. oraz Twórcę Grupy Kapitałowej STALPROFIL. W tych trudnych chwilach łączymy się z Rodziną, Bliskimi, Przyjaciółmi oraz Współpracownikami z Grupy Kapitałowej STALPROFIL. To dla nas ogromna strata. Wdzięczność za dokonania Pana Jerzego Bernharda oraz wspomnienia o Nim pozostaną na zawsze w naszej pamięci.
CZŁONKOWIE ZARZĄDU, RADY NADZORCZEJ ORAZ PRACOWNICY IZOSTAL S.A.
Nagle i niespodziewanie odszedł człowiek nieprzeciętny. Człowiek, który poza wieloma zasługami w sposób nie do przecenienia przyczynił się do powstania, rozwoju i obecnego kształtu Grupy Kapitałowej Stalprofil. Przyjmujemy jego brak z żalem i smutkiem, łącząc się w tych trudnych chwilach z rodziną, znajomymi i współpracownikami. Pan Jerzy Bernhard pozostanie w naszej życzliwej pamięci.
Zarząd i pracownicy Kolb Sp. z o.o.
JUrku - ŻEGNAJ. na pozegnanie przyjaciela kazde slowa sa za male, NIEWYSTARCZAJĄCE. BUDOWALIŚMY Wspolnie BCC, Przez lata sluzyles rada i pomoca. Nikt nie zajmie twojego miejsca. Serdeczne wyrazy WSPÓŁCZUCIA dla zony, synow, calej rodziny I bliskich.
Eugeniusz Budniok z zona Anna
"Śpieszmy się kochać ludzi, tak szybko odchodzą…" Jurku, nigdy nie przypuszczałem, że to ja będę opłakiwać Ciebie… Byłeś wzorem dla wielu, autorytetem w swojej dziedzinie, a dla mnie – przyjacielem. Żadne słowa nie oddadzą tej straty. Żegnaj. Składam wyrazy szczerego współczucia dla Żony, całej rodziny i bliskich.
JANUSZ PILSZAK Z REDAKCJĄ, "EUROPERSPEKTYWY"
Z wielkim smutkiem przyjęliśmy wiadomość o śmierci śp. Jerzego Bernharda. Niezwykłego człowieka, społecznika o wielkim autorytecie i sercu otwartym na potrzeby innych; wieloletniego członka BCC. Składamy wyrazy najszczerszego współczucia i żalu Rodzinie zmarłego. Pozwoliłem sobie zamieścić kondolencje w katowickiej gazecie wyborczej.
MAREK GOLISZEWSKI, PREZES BUSINESS CENTRE CLUB
Z głębokim żalem i smutkiem przyjęliśmy wiadomość o śmierci Pana Jerzego Bernharda, wspaniałego Człowieka i menedżera, zaangażowanego w rozwój Dąbrowy Górniczej, społecznika o wielkim autorytecie i sercu otwartym na potrzeby innych. Rodzinie i Bliskim składamy wyrazy szczerego współczucia.
Agnieszka Pasternak, przewodnicząca Rady Miejskiej wraz z radnymi Marcin Bazylak, prezydent Dąbrowy Górniczej wraz ze współpracownikami
Proszę przyjąć wyrazy najszczerszego współczucia i żalu po śmierci Jerzego Bernharda. Trudno przejść obok tak ogromnej straty. Pan Jerzy był wyjątkową osobą, pozostanie na zawsze w naszej pamięci jako ciepła, niezwykle sympatyczna i inteligentna osoba oraz niezrównany ekspert rynku stali.
Prezes Zarządu i pracownicy Polskiej Unii Dystrybutorów Stali
Kochany Szefie. Nigdy nie zapomnimy, że w trudnej sytuacji firmy powiedziałeś:" w pierwszej kolejności odbiorę sobie premię ale nigdy nikogo nie zwolnię". Byłeś wspaniałym szefem. Pomagałeś wszystkim, bez względu na zajmowane stanowisko pracownika. Już takich ludzi nie ma. Będziesz pierwszy przed nami. Zawsze najważniejsza dla Ciebie była rodzina. Ty jesteś już szczęśliwy- biedni są tylko Ci, którzy płaczą po Tobie.               Kochamy Cię.
Aleksandra Adamiecka-Skoczylas
Bardzo trudno pogodzić się z tak nagłym odejściem i żegnać tak wspaniałego człowieka .Praca z Panem to była nie tylko przyjemność ,ale wielki zaszczyt .Bardzo dziękuję za wszystko .Pozostaniesz zawsze w naszej pamięci.
STys
Składamy szczere wyrazy współczucia i żalu Rodzinie z powodu nagłej śmierci Pana Prezesa Jerzego Bernharda. Odszedł od nas Człowiek Wielki, wizjoner, konsekwentnie realizujący swoje marzenia o zbudowaniu silnej, cenionej na świecie Spółki Giełdowej. Człowiek dobrego serca, wsłuchujący się w głosy innych ludzi, dostrzegający drugiego człowieka, gotowy podać pomocną dłoń, zawsze podkreślający, że sukces jest wynikiem ciężkiej pracy wszystkich pracowników, których dobro stawiał na pierwszym miejscu. Człowiek, dla którego największą wartością była rodzina, a szczęście i siłę dawało mu obcowanie z nią. Dziękujemy Ci, że mogliśmy być Twoimi przyjaciółmi, za mądrość i rady, którymi się z nami dzieliłeś. Spoczywaj w pokoju.
Ewa, Natalia i Marian WEBER
Żegnaj Szefie i Przyjacielu!
Teresa Wawrowska